Enter our Cycle race in Gauteng in October, as online entries for the Germiston Classic are open.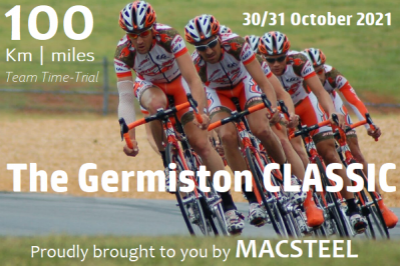 Calling all cyclists in Gauteng, Mpumalanga, North West, Free State and Limpopo – and perhaps as far as KwaZulu-Natal too – to join us for a "covid-friendly" event organised by Germiston Rotary and Germiston Wheelers. The event takes place on 30-31 October 2021, with two distances on offer, namely 100Km (Metric Century) and 160Km (Imperial Century). The format is a 6-person or 10-person team time trial, just like the Double Century in the Western Cape, and the Maluti Double 90 in the Free State.
A R500 deposit is all that is needed to secure your team's entry, with the final payment only due 2 weeks before the events. This is to ensure that you keep your hard-earned cash with you, and don't risk having to wait for a refund if the event is forced to be cancelled due to social distancing restrictions.
The event will also operate in small "team bubbles" to ensure we comply with the relevant lockdown restrictions in place at the time. Your team of 6 or 10 riders will need to keep together at the car park, move together to registration and "sign-in", before moving to the start batches. Each team starts at a 1 minute interval, and then you ride together as a team over the 100Km or 160Km course.
The course is undulating, with some super smooth tar surfaces on sections of the route. Ample water points to top up any bottles, with safe hygienic protocols in place. The route is fairly quiet, w.r.t. traffic, and is on an out-and-back course, meaning you will return on the same roads after the halfway u-turn.
Full details of the routes, waterpoints and all other information is on Our-Events page, just click on the to open the page.
We hope to see you at the event on the last weekend of October.